Stabilisation work set to start at Bervie Braes in Stonehaven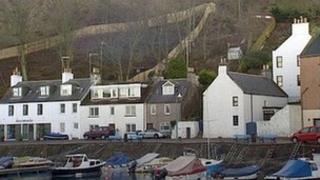 Work to protect homes from landslips at Bervie Braes in Stonehaven should soon start after the contract for stabilisation work was awarded.
Dozens of households had to be evacuated in 2010 after heavy rainfall affected the area.
West Midlands firm Forkers has secured the £2.4m contract and work - due to begin later this month - is expected to be complete by the end of September.
It includes drainage works to remove the ground and surface water.
Peter Argyle, chairman of Aberdeenshire Council's infrastructure services committee, said: "We are delighted that work is about to take place which will reduce the threat of future landslips affecting the properties at the bottom of the slope and create a safer environment for those living there.
"Although this has been a lengthy process, it's imperative that the council protects its financial position while offering the best solution to Stonehaven."
The new scheme is being developed within a budget that has been allocated by the Scottish government and Aberdeenshire Council.