Changes 'assured' over mobile crane MoT laws after fatal accident inquiry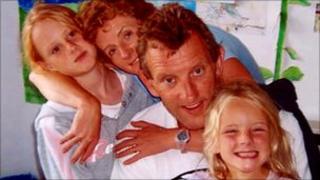 Assurances that changes to road safety laws will go ahead - following the death of a mother and her children - have been made, an MP has said.
Ann Copeland, 45, and daughters Ciara, seven, and Niamh, 10, from Johnshaven, died after their car skidded on the A92 in Aberdeenshire in January 2008.
A fatal accident inquiry heard hydraulic oil had leaked from a crane.
MP Sir Robert Smith said he had been told the Department for Transport would act on mobile crane MoTs becoming law.
Sheriff Kenneth Stewart made the recommendation in February after the earlier FAI at Stonehaven Sheriff Court, and that was backed by Barry Copeland, who lost his wife and daughters.
Such vehicles are currently exempt from MoTs.
Sir Robert said he had been told the intention was to remove the exemption.
'Lessons are learned'
He told BBC Scotland: "There are procedures so I am going to pursue the timetable.
"The whole point of FAIs is lessons are learned. Cranes have to be roadworthy."
Witness Hamish Anderson told the FAI he discovered several gallons of hydraulic oil had leaked from his vehicle.
He admitted he did not check the levels regularly.
Mr Anderson told the FAI that such checks were carried out when there was time.
Under questioning, he agreed it was really just an exercise in box ticking.