Aberdeen's City Garden Project leads in early voting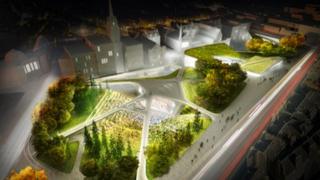 Early results from a referendum show a lead for redeveloping Aberdeen's Union Terrace Gardens.
People have been asked if they want to keep the historic gardens as they are or back the £140m City Garden Project.
Online votes were 16,428 for the project and 12,274 for retaining UTG, with 5,073 for the project by phone against 4,081.
Postal votes - the largest method - are being counted. The result is expected by about 13:00.
The total number of ballot papers issued was 165,830 and there were 86,825 responses - a 52% turnout.
The number of votes cast by post was 48,969, with 28,702 online and 9,154 by phone.
The count began at 10:00 after the ballot closed on Thursday.
Businessman Sir Ian Wood is backing the selected Granite Web project with £50m of his own money, and the Wood Family Trust has offered an additional £35m for any cost overruns.
However opponents claim the project is wrong for Aberdeen, historically and financially.
The Scottish government must see a finalised business case for the project before it can proceed.
During a previous public consultation process, 55% of those who took part said they did not support the new development.
But councillors backed taking the plans to the next stage.