Aberdeen's City Garden Project referendum vote closes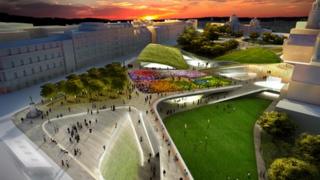 The referendum vote on controversial plans to redevelop Aberdeen's Union Terrace Gardens has closed.
People were asked if they want to keep the historic gardens as they are or back the £140m City Garden Project redevelopment.
The ballot closed at 17:00, with the count starting on Friday morning and the result due about lunchtime.
Tens of thousands of votes - from more than half of approximately 165,000 eligible - have been cast.
Independent counting officer Crawford Langley earlier said: "When voting closes the electronic systems will be switched off and any postal ballot not in my hand by that time will not be accepted.
"This is something which must not be left to the last minute and I would encourage voters to make sure they have their say in what is an important issue for Aberdeen."
Businessman Sir Ian Wood is backing the selected Granite Web project with £50m of his own money, and the Wood Family Trust has offered an additional £35m for any cost overruns.
However opponents claim the project is wrong for Aberdeen, historically and financially.
The Scottish government must see a finalised business case for the project before it can proceed.