Donald Trump's campaign against offshore wind turbines 'may top £10m'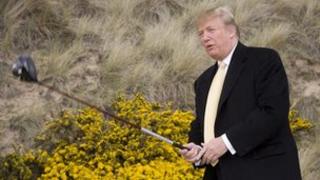 US tycoon Donald Trump may spend more than £10m campaigning against offshore wind turbines, his son has said.
Mr Trump is against proposals for 11 turbines off the Aberdeenshire coast, near his golf resort.
A decision on the offshore application is expected later this year.
Donald Trump Jnr was meeting MSPs to discuss whether his father would give evidence to a Scottish Parliament committee examining renewable energy.
Mr Trump Snr has previously called the turbines "ugly monstrosities" and "horrendous machines", and has decided to bankroll an anti-wind farm campaign "to save Scotland".
The wind farm which is planned close to Mr Trump's golf resort is a £150m venture by Vattenfall, Technip and Aberdeen Renewable Energy Group.