Half of Aberdeen's residents cast City Garden Project referendum vote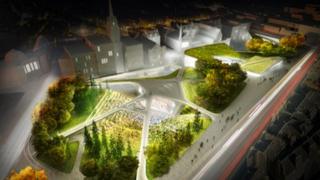 Half of Aberdeen's residents have cast their vote in the referendum on controversial plans to redevelop the city's Union Terrace Gardens.
People are being asked if they want to keep the historic gardens as they are or back the £140m City Garden Project redevelopment.
Independent counting officer Crawford Langley said the turnout so far was about 50%.
The ballot closes on Thursday, with the result due the next day.
Meanwhile, councillors are to hear a report from a financial watchdog which says redeveloping Union Terrace Gardens could be a potential long-term financial risk.
In the report to the authority's audit and risk committee, Audit Scotland warns that a key risk would be the affordability of the project and its impact on the city's finances shouldtax incremental financing(TIF) fail to provide the necessary increase in business rates.
'Being cautious'
Council leader Callum McCaig claims the risks of the TIF funding mechanism are low and the auditors are simply doing their job by being cautious.
Businessman Sir Ian Wood is backing the project with £50m of his own money, and the Wood Family Trust has offered an additional £35m for any cost overruns.
However opponents claim the project is wrong for Aberdeen, historically and financially.
The Scottish government must see a finalised business case for the project before it can proceed.