Most northerly sighting on Harlequin Ladybird on Shetland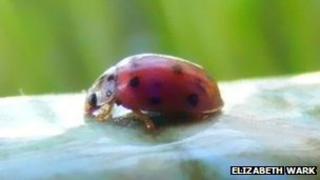 An alien species of ladybird which has been spreading northwards through the British Isles has been found in Shetland for the first time.
It is the most northerly sighting of the invasive harlequin ladybird ever recorded.
Experts believe the species has the potential to threaten the survival of native British ladybirds.
The harlequin competes with rival species for food and also eats their eggs and larvae.
It arrived in the south east of England in the summer of 2003 and has been rapidly spreading northwards since its first UK sighting.
It was spotted in the Shetland village of Aith by local resident, Elizabeth Wark.
She said: "A friend brought me a bunch of flowers from the supermarket. Later, I saw something moving across my kitchen ceiling and realised it was a ladybird.
"Ladybirds aren't very common here in Shetland so I was a bit surprised. The colour was different from an ordinary ladybird. It was an orangey red, not a vibrant red.
"I went online to identify it and realised it was a harlequin. I had never heard of them before."
Shetland has no native species of ladybirds, but they can occasionally be found in the islands.
Paul Harvey of Shetland's Biological Records Centre told BBC Scotland: "Ladybirds can be carried here by warm, southerly winds in summer. They can also arrive on things like Christmas trees or bunches of flowers."
The harlequin ladybird comes from central Asia and was introduced to mainland Europe in an attempt to control aphids.
Scientists have been relying on members of the public to help track its spread through the UK by logging sightings online. More than 40,000 people have reported sightings of the harlequin ladybird since 2005.
Experts say the species has a "broad climatic tolerance" and its spread northwards is not thought to be linked to climate change.
But Shetland is still thought to be too cold to support a population of harlequin ladybirds.
Dr Helen Roy of the Centre for Ecology and Hydrology said: "The harlequin is unlikely to establish itself in Shetland, but this case is an indication of its ability to spread."
"People have been fantastic at recording their sightings of harlequin ladybirds and it is worth remembering the public can play an increasingly important role as other insect species, like the Asian hornet, arrive in Britain."
Members of the public can report harlequin ladybird sightings, and find more information about the species, on the UK Ladybird Survey website.