Aberdeen City Garden Project: Man arrested over social network comments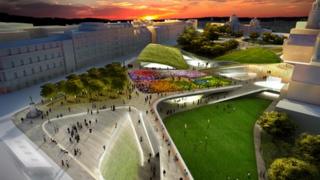 A 31-year-old man has been charged in connection with comments posted on a social networking site in relation to the Aberdeen Union Terrace Gardens referendum.
It follows earlier claims that voting packs may have been stolen.
Aberdeen residents are being asked to decide whether to keep the gardens as they are or back a £140m redevelopment.
Sir Ian Wood, who is providing £50m for the proposed development, has urged residents to use their vote.
He said: "Every citizen has one vote and everyone's vote counts. Please use your vote.
"There is now just one week left for people to vote on the future of their city.
"I have been incredibly fortunate to have benefited from North Sea oil and I want to give something back that will make a real difference to the city's future and that of our children.
"This is not a vanity project."
'Wrong for Aberdeen'
He added: "I would like the people of Aberdeen to have a dynamic and thriving city centre that is part of a region which continues to prosper from the oil and gas legacy."
"The referendum is a unique opportunity to have your say on our city centre's future.
"I have no wish to 'impose my will' on the people of Aberdeen. All I have done is made funds available to give the city the choice of carrying out transformational, badly-needed regeneration.
"The referendum is not about me or anyone else in business dictating how our city should look.
"It is about the citizens of Aberdeen deciding what they want their city to be like in the future and it is absolutely vital that everyone uses their vote."
Independent counting officer Crawford Langley said anyone who contacted the council to say they had not received their voting pack would be issued with a replacement.
He added that any attempt to vote using the pack that was initially sent out would then be blocked.
The referendum ballot closes on 1 March. The result is due the following day.
About 165,000 voting packs were distributed to city residents last week and tens of thousands of votes have already been cast.
Opponents claim the project is wrong for Aberdeen.
The Scottish government must see a finalised business case for the project before it can proceed.
A further £35m has been pledged from the Wood Family Trust if costs overrun.