Aberdeen City Garden Project: Police probe claims of backers being abused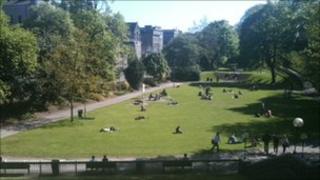 Allegations of threats and abuse aimed at backers of Aberdeen's controversial City Garden Project are being investigated by police.
A referendum is asking members of the public whether they support the transformation of historic Union Terrace Gardens or want it retained.
Tom Smith, of Aberdeen City Gardens Trust (ACGT), said personal attacks had been made online.
Grampian Police told BBC Scotland it was investigating.
Mr Smith said: "We are aware that several people have complained to Grampian Police about certain activities by those objecting to the City Garden Project.
"We believe these complaints are in relation to online bullying and intimidation, e-mail hacking, highly personal attacks and receipt of e-mails of a menacing or threatening nature."
Mike Shepherd, of campaign group Friends of Union Terrace Gardens, told the BBC Scotland news website: "We are also being subjected to online abuse by a fringe minority.
"The Friends of Union Terrace Gardens encourage their supporters not to personalise the issue and to stick to debating the facts.
"We will not condone personal abuse by either side."
He added: "There is no need for hysteria in this debate. Let's get things in perspective, one side wants to build a new garden the other to keep an existing park.
"The use of dirty tricks should be put aside so we can have a healthy discussion about how Aberdeen city centre is to look."
Thousands reply
The referendum ballot closes on 1 March. The result is due the following day.
So far, about 20,000 postal ballots have been returned and about 15,000 online and phone votes cast.
About 165,000 voting packs were distributed to city residents last week.
The Scottish government must see a finalised business case for the project before it can proceed.
Businessman Sir Ian Wood is providing £50m of his own money for the project, with a further £35m from the Wood Family Trust if costs overrun.
Opponents claim the project is wrong for Aberdeen.