National Lottery win: Sheila and Duncan Davidson collect £4.5m cheque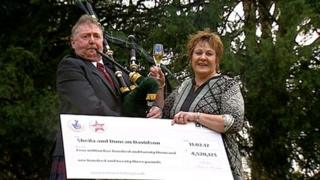 An Aberdeenshire couple have collected a cheque for more than £4.5m after winning a National Lottery jackpot.
Sheila and Duncan Davidson, of Bridge of Alford, were the sole winners of the main £4,520,123 prize in Saturday's draw with a lucky dip ticket.
Mrs Davidson, 53, said: "On reading the numbers again, I thought I was going mad."
She said she would be making a donation to Aberdeen Royal Infirmary, after being treated for mouth cancer.
Mrs Davidson described how she could not sleep at the weekend so had decided to check her numbers online.
On discovering that she had all six numbers she thought her computer was broken, so she closed it down and turned it on again - only to find that the numbers were still the same.
She said: "I woke my husband Duncan to check. But he wasn't convinced either.
"We were still in complete denial that we could be so lucky. So we got in the car and drove around Alford looking for my daughter.
"She was at a friend's house, but of course came straight home when I told her the news. She checked them too and confirmed that we weren't going insane. We had actually won the jackpot.
"None of us slept that night. And it still hasn't sunk in."
'Wouldn't be here'
On how to spend her winnings with her husband, a keen piper, she said: "A new car because I have been driving my Vauxhall Astra for years now and it's on its last legs.
"Duncan only wants to see his favourite football team play at home. He's a huge Manchester United fan and all he wants to do is see them play at Old Trafford."
Mrs Davidson was diagnosed with a rare form of mouth cancer two years ago.
She said: "Now that I have some money, I really want to give something back to the maxillofacial unit in the Aberdeen Royal Infirmary.
"They helped me get better and without them I wouldn't be here today. Money would have been of no use to me if I didn't have my health."
The winning numbers were 1, 23, 24, 31, 45 and 49.
Alford earlier celebrated winners in 2010 when Robert and Susan McIntosh scooped the sole £4,460,495 jackpot with a lucky dip ticket.