New Orkney wave devices set to power 1,000 homes via National Grid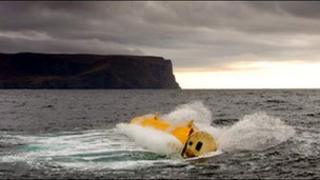 Wave energy converters which can power more than 1,000 homes have been approved in Orkney by Energy Minister Fergus Ewing.
Aquamarine Power's Oyster project is at the European Marine Energy Centre (EMEC).
The two new devices will be connected to the National Grid.
Mr Ewing said: "I am delighted to grant consent to these devices, the first nearshore wave array in Scotland to feed in to the National Grid."
He added: "Scotland has unparalleled natural resources, with a tenth of Europe's wave power, and these new devices will help us to fully harness the huge energy resources around our own coast and contribute to global efforts to expand clean, green electricity generation.
"Scotland is in the midst of a renewables revolution, and it is innovation and creativity such as that behind the Oyster device which will help us meet our ambitious renewable electricity targets and help us reindustrialise Scotland."