City Garden Project business case still to be submitted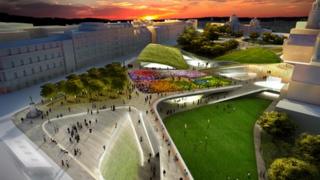 Aberdeen City Council has yet to formally submit the business case for the controversial City Garden Project to Scottish ministers, BBC Scotland can reveal.
A design called Granite Web has been chosen to transform historic Union Terrace Gardens.
Members of the public are being asked whether they support the project or want to retain the existing gardens.
The Scottish government said it must see a finalised business case.
A £92m loan for the project would help pay for the project, and would be paid back by increased income from business rates.
A Scottish government spokesman said: "We are clear that Aberdeen City Council's plan to use TIF (Tax Incremental Financing) for the City Garden Project will be progressed for ministers' detailed consideration if public support for the project can be demonstrated.
"As with all potential projects of this nature, final approval will only be given on the basis of a detailed business plan demonstrating how increased business rates will be used to repay initial loans."
In a statement, the city council said its draft business case was submitted to the Scottish Futures Trust in December last year and officials from the council and SFT would work closely together on producing and shaping the final business case before it goes to Scottish ministers.
The referendum ballot papers on the project are due to go out to households this week.
Heritage concern
North East Labour MSP Richard Baker said city residents were being asked whether they backed the scheme without knowing whether it was affordable.
The referendum ballot closes on 1 March.
Businessman Sir Ian Wood has already pledged £50m of his own money to the project, and another £35m from the Wood Family Trust in case of an "unlikely" overspend.
Friends of Union Terrace Gardens claim the proposed City Garden Project is wrong economically, environmentally and for the heritage of the city.
During a previous public consultation process, 55% of those who took part said they did not support the new development.
But councillors backed taking the plans to the next stage.
If the project proceeds, Aberdeen City Council believes construction could be finished by 2016.