House destroyed by major Aberdeenshire house blaze in Memsie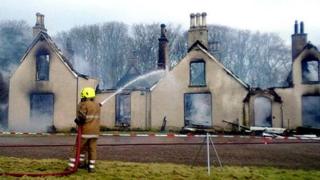 More than 40 firefighters have been tackling a blaze at a house in Aberdeenshire.
Grampian Fire and Rescue Service said the operation, in Memsie near Fraserburgh, had been hampered by a lack of water in the area.
Supplies were being transported from a source half-a-mile away from the building, which was totally destroyed.
Nobody was hurt in the fire, the cause of which has yet to be established.
A fire service spokesperson said crews were expected to be there until the afternoon.
Do you have pictures of this incident? Send them to the BBC Scotland news website at newsonlinescotland@bbc.co.uk
Please ensure when filming or photographing an incident that you make your safety and the safety of others a priority.
If you submit an image, you do so in accordance with the BBC's Terms and Conditions.