Michael Ross 'not victim of miscarriage of justice' for Orkney murder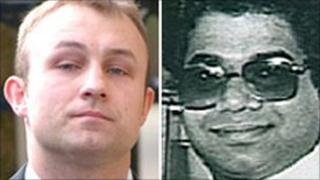 A man jailed for the murder of a waiter on Orkney was not a victim of a miscarriage of justice, prosecutors have said.
Former Black Watch sniper Michael Ross was 15 when Shamsuddin Mahmood, 26, was shot in the head in Kirkwall's Mumataz Restaurant in June 1994.
Ross was sentenced to a minimum of 25 years after being found guilty in 2008.
The defence has argued in an appeal that interviews with him as a child were unfair.
Mr Mahmood, born in Bangladesh, was shot in full view of a room full of diners, including families with children, by a masked gunman.
The appeal is before three judges in Edinburgh.
Advocate depute Lesley Shand QC said: "In my submission, no miscarriage of justice has been demonstrated."
The appeal judges, the Lord Justice General, Lord Hamilton, sitting with Lord Carloway and Lord Bonomy, reserved their decision in the case and will give a ruling at a later date, yet to be fixed.