Several offers received for Aberdeen's Pittodrie Stadium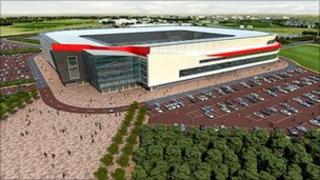 Aberdeen FC's move to a new stadium has moved a step closer with the announcement that several offers have been received for Pittodrie.
The ground was put on the market after outline planning permission for 350 homes on the site was secured.
The club says the sale of the 13.7-acre Pittodrie site is key to securing the £38m needed to build a new stadium, capable of holding about 21,000 fans.
Consultants CBRE say they are now in discussions with several bidders.
The new stadium would be at Loirston Loch on the southern outskirts of the city.
It is hoped the stadium - which is planned to be an iconic landmark - could be ready for the 2013/14 season.