Further £35m pledged for 'unlikely' extra City Garden Project costs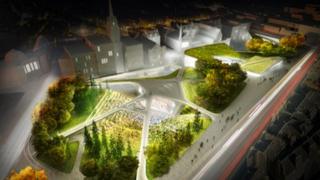 A further £35m has been pledged to Aberdeen's controversial City Garden Project to cover any "very unlikely" extra costs.
A design called Granite Web has been chosen to transform historic Union Terrace Gardens.
Members of the public are being asked if they support the project or want the existing gardens kept.
The Wood Family Trust (WFT) said it was making a contingency of 25% of the original £140m budget available.
Businessman Sir Ian Wood has already pledged £50m of his own money to the project.
Mr Wood, chairman of WFT, said the additional funds were to demonstrate confidence in the current cost estimates.
He said: "Concerns have been expressed about the impact of any potential cost over-run to the City Garden Project.
"These are being irresponsibly fuelled by misinformation and unfounded speculation.
"The estimated total cost of £140m has been carefully worked out by the design team, and verified by independent technical experts.
"The Granite Web is a particularly cost effective design, which should definitely be delivered within the £140m estimate, which already includes some contingencies."
Economically wrong
Mr Wood explained: "To reassure the tax payer that this project will not take funds away from local services provided by the council and to demonstrate my confidence in the cost estimates, Wood Family Trust will give an undertaking to the council to pay for any cost over-run up to 25% of the £140m estimate to cover the very unlikely event of any cost escalation.
"This should eliminate any concerns on this issue."
The referendum ballot closes on 1 March.
Friends of Union Terrace Gardens claim the proposed City Garden Project is wrong economically, environmentally and for the heritage of the city.
During a previous public consultation process, 55% of those who took part said they did not support the new development.
But councillors backed taking the plans to the next stage.
If the project proceeds, Aberdeen City Council believes construction could be finished by 2016.