Five deny murder of Gordon Morrice in Aberdeen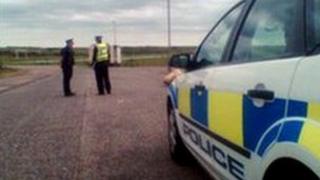 Five people have gone on trial charged with the murder of a man in Aberdeen.
Gordon Morrice died several months after he was allegedly attacked by Robert Laird, 25; Paul Yates, 38; Williamina Stewart, 37; Hector Stewart, 30; and 17-year-old Paul Noble.
They are accused of attacking him at playing fields in Golf Road in June 2010.
Mr Morrice was said to have been so severely injured that he died in March last year.
The High Court in Aberdeen heard that Mr Morrice was reported to police for asking to play on a trampoline with children the day before the alleged attack.
The accused, all of Aberdeen, are alleged to have struck 57-year-old Mr Morrice on the body with a bicycle and repeatedly punched him on the head and body.
Witness Louise McKeown, 35, told the court a man had appeared at her gate while her daughter and the daughter of Williamina Stewart bounced on a trampoline in the garden.
Took photograph
She said she became concerned when the man, who was later identified as Mr Morrice, asked if he could join in.
She said: "Why would a grown man ask two children if he could bounce on a trampoline with them?
"He didn't know them.
"I asked him not to talk to them because he didn't know them and they didn't know him and they weren't allowed to talk to strangers."
She said she saw the man a short time later and took a photograph of him on her mobile phone before calling the police.
Another witness told the court she had seen a man, who she believed to be the man in the photograph, later trying to gain access to the building where he had approached the children in the garden.
Sharon Livingstone, 41, said she saw the man "roaming Seaton" carrying a carrier bag before trying the door of the block of flats.
She said: "Two or three times he tried to get into the building. It was dark - bedtime."
'Dangerous accusation'
Pc Graham Forbes, of Grampian Police, said when he arrived at the property to take statements in the early hours of the day of the attack Hector Stewart was standing outside.
He said: "As I was walking past him he said I better get hold of him before he does or he was going to pay."
Pc Forbes also told the court that Williamina and Hector Stewart later indicated that they thought Mr Morrice was a "paedophile" or a "pervert".
He said: "I told them at the time that that was an extremely dangerous accusation to make as that's how people end up getting seriously hurt under that assumption."
But defence council for Williamina Stewart, Jock Thomson QC, suggested to the police officer that he had given a different response when she had showed him a picture of the man she claimed had approached her child.
He said: "Not only did you say you knew him, but you knew him for what he was, but you couldn't say what he was in the presence of ladies."
Pc Forbes said the statement was incorrect.
Hector Stewart's boss, bar manager Sharon Ray, 39, also told the court that the barman had come into work on the day of the alleged attack on Mr Morrice with the photo of him and asked customers if they could identify him.
All five accused deny murder.
The trial, before Lord Uist, continues.