Crash deaths father demands HSE answers after inquiry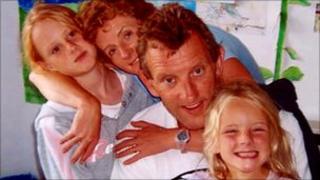 A man whose wife and children died in a crash after an oil spill is demanding to know what action the Health and Safety Executive is taking.
Ann Copeland, 45, and daughters Ciara, seven, and Niamh, 10, from Johnshaven, died after their car skidded on the A92 in Aberdeenshire in January 2008.
A fatal accident inquiry at Stonehaven Sheriff Court heard hydraulic oil had leaked from a company's crane.
Sheriff Kenneth Stewart has recommended MoTs for mobile cranes become law.
Mr Copeland told BBC Scotland he was writing to the HSE asking what action they intended to take.
"The sheriff concluded that the accident was caused by hydraulic oil on the road and that, on the balance of probabilities, the oil was deposited on the road by the mobile crane," he said.
"He also found that had the company had a preventative maintenance system in place then the deaths may well have been avoided.
"Oil spillages continue to cause large numbers of accidents on Scotland's roads."
Box ticking
Mr Copeland echoed the call for MoTs to be enforced for mobile cranes.
Sheriff Stewart added that Mr Copeland, who questioned witnesses, had displayed "great courage, dignity and professionalism" and expressed his condolences for his "devastating" loss.
An HSE spokesman said: "We have not yet received correspondence from Mr Copeland but will also give his comments careful consideration in due course."
Witness Hamish Anderson told the FAI he discovered several gallons of hydraulic oil had leaked from his vehicle.
He admitted he did not check the levels regularly.
Mr Anderson told the FAI that such checks were carried out when there was time.
Under questioning, he agreed it was really just an exercise in box ticking.
Mr Anderson said he had only looked at the crane operator manual once.
That was in 1998 when he got the crane and had never looked at it again.