Michael Jackson Thriller dance at Aberdeen's Kincorth Academy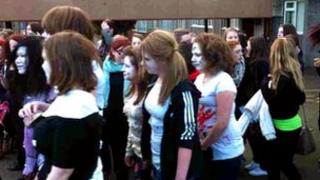 Pupils at an Aberdeen school have recreated Michael Jackson's famous Thriller video.
More than 100 children rehearsed for the performance in the playground of Kincorth Academy.
The 1983 video saw a troupe of zombies rise from their graves and break into a dance routine.
Student teacher Sophie Boyne choreographed the Kincorth routine, and the pupils were said to have reacted well to the project.
Drama teacher Catherine Rankin said: "It's a great way to get the pupils really excited about their work.
"They've all embraced the concept, worked together in rehearsals to make sure they all know the various elements of the dance."
She added: "We can assure the rest of the pupils and any passers-by that the school hasn't been taken over by zombies."