Aberdeenshire offshore wind farm submission finalised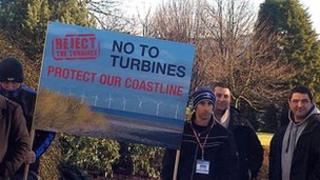 Aberdeenshire Council has completed its submission to Marine Scotland on a controversial wind farm development off the North east coast.
The European Offshore Wind Deployment Centre is a £150m venture by Vattenfall, Technip and Aberdeen Renewable Energy Group.
The infrastructure services committee was not for or against the plans.
Details of issues raised surrounding the bid will be sent to Marine Scotland as part of the consultation process.
US tycoon Donald Trump has said he will abandon his plans for a hotel and houses at his golf resort on the Menie Estate if the project is approved.
A "no to turbines" protest was held outside the meeting.
A planning application for the wind farm off Aberdeen Bay, 2km (1.2 miles) from the golf course, was submitted to Marine Scotland - which manages Scotland's seas - in August last year.
The marine consortium applying to build the wind farm has said that 11 next-generation wind turbines would be constructed as a testing ground for future developments.
It is expected it would create jobs and economic benefit by attracting scientists, researchers, engineers and offshore wind supply chain companies.
A final decision on the wind farm plans is expected by Scottish ministers later in the year.