Black fish skippers were 'just greedy', judge suggests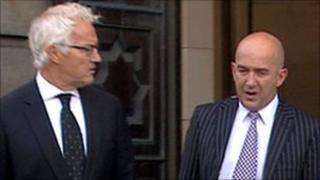 Skippers guilty of illegal fishing were just greedy, a judge has suggested.
A total of 17 skippers are appearing at the High Court in Edinburgh this week over a black fish scam worth tens of millions of pounds.
Hamish Slater, 53, of Fraserburgh, and Victor Buschini, 51, from Hambleton, Lancashire, appeared for the court to hear mitigation.
Judge Lord Turnbull said: "It doesn't seem that far from other criminal conduct."
Slater and Buschini's haul of black fish was valued at £7.2m between 2002 and 2005.
Lord Turnbull said that even after being caught and subjected to quota deductions to make up for their over-fishing, the skippers were still making "a handsome living".
He asked: "What must it have been like when they were under-declaring? Why was there a need to make that much money?"
'Worse off'
The judge added: "When it comes to it, is it not just greed?"
Defence QC Gordon Jackson, for Buschini, said: "Every penny has been paid back. They shot themselves in the foot.
"They have ended up a lot worse off than had they not done it in the first place."
The various sentencings are expected to be announced in Glasgow at the end of February.