Improvements of £45m earmarked for Aberdeen Airport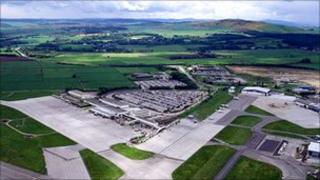 Aberdeen Airport is to get £4.25m of improvements in the coming year, as part of a £45m spend earmarked through to 2021.
A £10m extension of the main runway was completed in October as part of £50m of investment in the previous decade.
The new spending is expected to include the start of a £5m expansion of the airport's international arrivals area.
Airport managing director Derek Provan said: "Our aim is to continue to provide high standards of service."
The runway extension was completed almost eight months ahead of schedule.
A report for the airport, by York Aviation, predicted an additional 205,000 passengers by 2015.
The length of the runway extension is 124m (406ft). It is hoped it could open up new routes.
Groups including Aberdeen Against Climate Change had objected.