Aberdeen City Garden Project 'could create 6,500 jobs'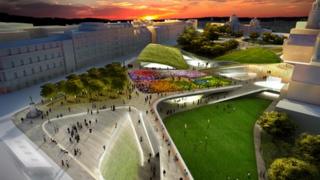 Aberdeen's controversial City Garden Project could create about 6,500 new jobs, it has been claimed.
A report from consultants PwC into the plans for Union Terrace Gardens also says it could inject £122m into the local economy annually.
On Monday, Diller Scofidio and Renfro/Keppie Design's entry Granite Web was chosen for the project.
Members of the public are being asked if they support the project or want the existing gardens kept.
The referendum ballot closes on 1 March.
The PwC report was commissioned by the City Garden Project management board.
Mark Graham of PwC said: "The economic assessment includes responses from businesses and trade organisations.
"The responses demonstrate significant support for the potential of the projects to enhance the city's image and increase the pace of business and investment."
Colin Crosby, director of Aberdeen City Gardens Trust (ACGT), said: "The city cannot afford to ignore this significant potential to secure our long-term economic future."
The study will be discussed at a full council meeting on 25 January.
However, campaign group Friends of Union Terrace Gardens argue the project is wrong economically, environmentally and for the heritage of Aberdeen.
'Judge ourselves'
Friends of Union Terrace Gardens chairman Mike Shepherd said: "The report has not been made public yet.
"We are being asked to believe the assertion that the City Garden Project will create 6,500 jobs but without being able to see any of the assumptions that have been used to back this up.
"We are being told what we should believe about this number without being given the chance to judge ourselves."
Businessman Sir Ian Wood has pledged £50m to the project.
During a previous public consultation process, 55% of those who took part said they did not support the new development.
But councillors backed taking the plans to the next stage.
If the project proceeds, Aberdeen City Council believes construction could be finished by 2016.