Owner shocked over threat to Sangs and Calanike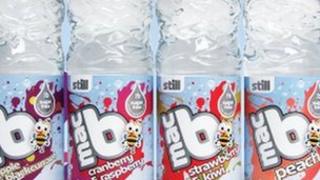 A businessman has said he is "absolutely furious" after a bank placed one of his firms into administration and another into receivership.
Kenny Webster owns soft drink manufacturer Sangs and petrol station chain Calanike.
He said the companies had been "ripped away" without warning, risking 250 jobs.
He questioned whether Allied Irish Bank was acting responsibly.
Sangs, based in Macduff, Aberdeenshire, makes and distributes fizzy drinks, juices and water, including the Macb flavoured water brand, and is shirt sponsors of Partick Thistle football club.
The company, which employs about 60 people, also operates a wholesale delivery business from its headquarters in Aberdeenshire and a distribution centre in South Lanarkshire.
A company source said the Allied Irish Bank had recalled all the company's debts without warning.
Administrators Zolfo Cooper said the company was experiencing cash flow problems because of the challenging trading environment.
Mr Webster said: "To say that this has come as a shock is more than an understatement.
"Allied Irish decided to put Sangs into administration with almost immediate effect, giving us absolutely no opportunity to discuss it with them, or find an alternative solution, despite our pleas.
"That would be shocking enough but given that Sangs is a company in profit, in growth, with (despite information to the contrary) no cash flow issue and has never defaulted on a loan interest or supplier payment, I am completely at a loss to understand why they've done this."
A second company owned by Mr Webster, Calanike Retailing Limited, based in Kirkintilloch in East Dunbartonshire, employs about 170 staff and operates 19 freehold petrol stations across mid-Scotland and northern England.
The company went into receivership because it faced an "unsustainable financial position" in a "particularly challenging" sector, Zolfo Cooper said.
Mr Webster added: "AIB also used a cross-guarantee to put Calanike in receivership. Previous to this, they had never once discussed the health of the company with us.
"This is a company that has net assets valued at almost £5m, an excellent credit rating and, in our last financial year, profit before tax of £192,000."
He said the bank had put the jobs of more than 250 people on the line without giving the firm opportunity to refinance.
"They even knew about plans to sell Calanike, which would have totally cleared our debt. How on earth can this be described as responsible banking?" he asked.
Allied Irish Bank said it could not comment on individual cases.
Zolfo Cooper said it would continue to trade both companies while exploring "all possible options" for their future, including the sale of the businesses as going concerns.