Shetland 'needs long-term council chief executive'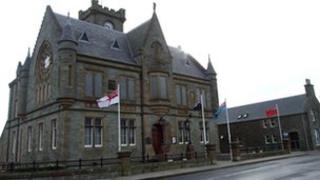 Shetland Islands Council needs a long-term chief executive in its bid to progress, the Accounts Commission has said.
The commission said in 2010 that the local authority had "serious problems" and needed to change.
That report ruled the council had problems with leadership, financial management and accountability.
The Accounts Commission has now said improvements have been made but that there remain concerns.
Chair of the Accounts Commission, John Baillie, said: "We welcome Shetland Islands Council's prompt action and the progress it has made.
"It is encouraging that the council now has in place many of the basic but essential building blocks needed to provide best value.
"This positive direction and change needs to be continued and the council needs to ensure it has the capacity to do this. This is especially important as it faces considerable challenges in the future."
'Do more'
However he added: "A long-term appointment to the chief executive position is needed, as the current appointment has been on an interim basis only."
And Mr Baillie said: "The council needs to do more to demonstrate more effective strategic financial management."
The commission has asked the Controller of Audit to prepare a further progress report in about a year.
Council chief executive Alistair Buchan said: "Today's findings make it clear that, although we have achieved a considerable amount in a short space of time, there is still some way to go."
The controversy followed a pay-off to the council's former chief executive in 2010.
David Clark left with a tax-free golden handshake of about £285,000.
Dozens of people took to the streets of Lerwick to protest over the handling of Mr Clark's departure after his nine-month spell in the job.
The Accounts Commission held a two-day public hearing into the case.