Soft drink maker Sangs in administration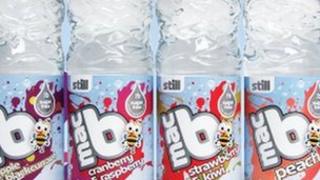 The soft drink manufacturer Sangs has gone into administration.
It made and distributed fizzy drinks, juices and water, including the MacB flavoured water brand.
Sangs also operated a wholesale delivery business from its headquarters in Aberdeenshire and a distribution centre in South Lanarkshire.
The administrators, Zolfo Cooper, said they would explore all possible options, including the sale of the business as a going concern.
Sangs is based at Macduff and employs about 60 workers.
Regional soft-drink makers like Sangs have declined against stiff competition from major players in the market, such as Coca Cola and, in Scotland, Barr's Irn Bru.
Elizabeth Mackay, a partner at Zolfo Cooper, said: "Sangs has established a significant presence across Scotland and with its rich history, strong underlying core business and the growing Macb brand, we believe it is an attractive proposition for a range of potential buyers.
"We will continue to trade the business and welcome expressions of interest from third parties."