Seal pup named Viking rescued by oil ship dies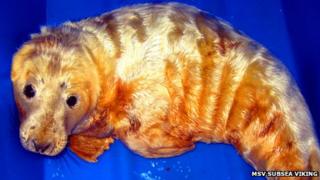 A seal pup rescued after refusing to leave an oil industry ship 100 miles out to sea has died.
The grey seal made headlines when British Divers Marine Life Rescue told how the pup had climbed on board MSV Subsea Viking west of Shetland.
The crew placed the pup back in the water - but it returned, and fell asleep on board.
Initially named Sammy, Viking was taken to BDMLR's Highland Seal Hospital in November. He has since died.
'Did everything'
Staff said the seal had struggled to put on weight.
A BDMLR spokeswoman said: "Sadly he died. He was in hospital and seemed to be doing fine, taking food and feeding for himself.
"He should have been putting on weight with the fish he was eating.
"We did send him off to have a post mortem to find out what might have caused it. He was on a boat for a long time and may have ingested oil.
"We did everything we could for him."