Campaign against Aberdeen City Garden Project launched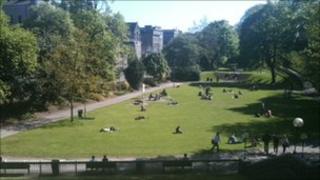 A group against the redevelopment of Aberdeen's Union Terrace Gardens has launched a campaign ahead of a referendum on the project.
Friends of Union Terrace Gardens claim the proposed £140m City Garden Project is wrong economically, environmentally and for the heritage of the city.
The City Garden management board said it was an "amazing opportunity".
Members of the public are being asked whether they support the project or if they want the existing gardens kept.
The ballot will close on 1 March.
Two designs have gone head-to-head to compete for the project if it goes ahead.
The finalists are called Granite Web and Winter Garden, with the winner due to be announced later this month.
Businessman Sir Ian Wood has pledged £50m to the project.
During a previous public consultation process, 55% of those who took part said they did not support the new development.
However, councillors backed taking the plans to the next stage.
If the project proceeds, Aberdeen City Council believes construction could be finished by 2016.