Winds of up to 101mph recorded in the Northern Isles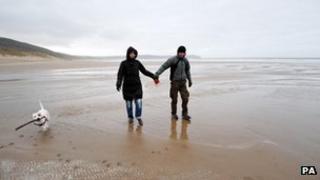 Wind speeds of up to 101mph have been recorded in Shetland, after the Met Office issued a severe wind warning for the far north of Scotland.
Forecasters issued an amber "be prepared" alert for Christmas Day, lasting until the night, for northern Scotland and the Northern Isles.
Overall, Christmas Day in the UK has been the third mildest on record.
A high of 14.3C (57.7F) was recorded in County Down - the mildest Christmas Day on record for Northern Ireland.
The temperature was recorded in Murlough, where the previous record was 13C - most recently recorded in 1988.
Unseasonably mild
Elsewhere, the weather has been mild with quite a lot of cloud, wind, damp and drizzle.
It is a sharp contrast from last year, when much of the country saw snow.
"Southwesterly winds brought unseasonably mild weather to the UK, with Northern Ireland reporting its mildest Christmas on record," said Holly Green, BBC weather forecaster.
"The UK as a whole saw its third mildest on record, only beaten by 1896 and 1920."
In those years, the mercury hit 15.6C (60F).
This year's lowest Christmas Day temperature - 9C (48F) - was recorded in Carterhouse in the Scottish borders. And the highest - 15.1C (59.1F) - was in Dyce in Aberdeen.
'Notoriously unpredictable'
The Met Office warned transport and power could be hit in the far north of Scotland, and structural damage was possible.
Gusts of 101mph were recorded at Sella Ness in Shetland - the highest winds at a low-level site, say forecasters - while the Cairngorms also saw winds in excess of 100mph.
Police urged drivers in the central Scotland area to take care on the roads, due to high winds.
Scottish Transport Minister Keith Brown said the government's resilience team was monitoring the situation, adding: "Scotland's weather is notoriously unpredictable.
"Our resilience planning this year has been designed to deal with unexpected events - such as today's high winds - as well as those which can be foreseen.
"The power companies are also prepared to deal with any power cuts."
Mr Brown asked the public to listen to weather warnings.
"Everyone should take sensible precautions, particularly if they are travelling, to ensure that they have a safe and happy Christmas," he said.