Scots golf collection on virtual display in web museum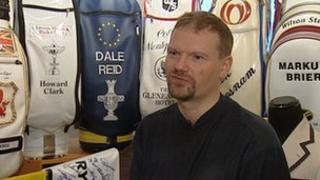 A former Grampian policeman has set up what he says is the only virtual golf museum in the world.
Gary Dempster has one of Scotland's biggest collections of golf memorabilia.
Over the years he has picked up so many items he is running out of room in his house to store them.
He has now put every item on display on his golf museum website - a collection he believes is unique.
Mr Dempster has hoarded thousands of items since he began collecting 15 years ago, from bags to balls, socks to scorecards.
"I was on an internet site and I saw a caddy's bib and it belonged to Justin Leonard and it was signed.
"Because I played golf and I was very keen on watching golf I just couldn't believe that pieces of memorabilia were out there," he said.
He put in a bid, got it and said he was ecstatic. After that there was no stopping him.
"From that one bib it was a catalyst to the collection I have today."
He doesn't know how much he has spent since or how much his collection is worth.
His most-prized possession is a scorecard from the USA PGA championship in 1960 signed by one of the all-time greats, Ben Hogan.
'Unique' collection
He also has cups and trophies won by one of his heroes, Tony Jacklin.
The Ryder Cup also features prominently. In all, Mr Dempster has more than 100 golf bags from personalities as diverse as Colin Montgomerie and Peter Alliss.
He believes his collection is unique.
It is certainly the world's only virtual golf museum, he says, where every item is on display. That includes hats, shoes, bibs and almost anything else associated with the game.
Mr Dempster says he is not yet done - the collection continues to grow.
Top of his wish-list are game-used bags from Paul Lawrie or Sandy Lyle or items from golf legends Jack Nicklaus and Arnold Palmer.
"The hope is one day that I can put the collection on permanent display for the public," he said.
"That would clear the flat and certainly give me some space back.
"A lot of the items are unique. They are one-offs. You couldn't replace them. It would be difficult to put a value on the collection but we are talking a lot of money."