Image of planned Maggie's centre in Aberdeen unveiled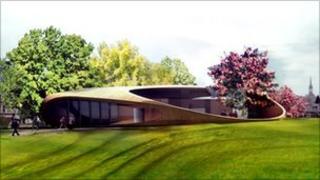 The first image of a planned new cancer unit in Aberdeen, in memory of Scottish golfer Colin Montgomerie's mother, has been unveiled.
The winning Ryder Cup captain hopes to raise £3m to build the Maggie's Centre.
The charity has been working with the Elizabeth Montgomerie Foundation, which was established by the golfer and his family in tribute to his mother.
A planning application for the design by Oslo's Snohetta has been submitted to Aberdeen City Council.
The golfer's mother died of lung cancer in 1991.
Laura Lee, chief executive officer of Maggie's, said: "We are so pleased that the application is now under consideration by the council.
"The design for Maggie's Aberdeen is really striking and encapsulates the Maggie's brief in providing a space that is homely and full of warmth, whilst sparking curiosity and imagination from its visitors."
Richard Carey, NHS Grampian chief executive, said: "This is a centre that will be greatly utilised by all in the region affected by cancer and it's great to take a step closer to that reality."