Closing date deferred for Pittodrie Stadium bids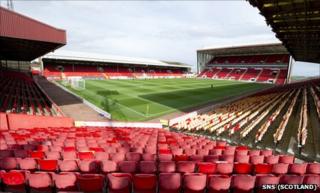 The closing date for bids to buy Aberdeen Football Club's home - Pittodrie Stadium - has been deferred.
The club put the 107-year-old ground on the market earlier this year after securing outline planning permission for 350 homes on the site.
The club says the sale of the 13.7-acre Pittodrie site is key to securing the £38m needed to build a new stadium, capable of holding about 21,000 fans.
The closing date was extended from Thursday until the New Year.
The new stadium would be at Loirston Loch on the southern outskirts of the city.
Barr Construction - which has built many stadiums - has been named as the preferred contractor.
It is hoped the stadium - which is planned to be an iconic landmark - could be ready for the 2013/14 season.
In March, Scottish ministers decided against calling in the proposals.
The new stadium project was subject to 140 objections from local communities and groups concerned about the environmental impact.