Mackerel wrangle sanctions plan welcomed in Scotland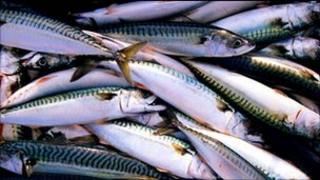 The European Commission has set out the sanctions it proposes to implement against Iceland and the Faroes for overfishing mackerel.
Iceland and the Faroes last year announced a sizeable quota increase.
Included in the planned sanctions will be the restriction of some fish imports.
If agreed, the sanctions could come into place as early as March next year. Mackerel is the most valuable stock for the Scottish fleet.
'Not credible'
Scottish Fisheries Secretary Richard Lochhead said: "I welcome that these proposals have at last been published.
"We cannot stand back while this valuable stock is plundered.
"If we are to ensure mackerel is sustainably fished and Scottish industry safeguarded, it's critical that we have power to use sanctions, as and when required."
Tomas Heidar, chief negotiator for Iceland on mackerel fisheries, said: "In my view, the EU Commission should rather concentrate on promoting a solution to the mackerel issue than allude to import restrictions and other trade measures that would be in violation of international trade agreements.
"I do not find it credible that the EU would seriously consider applying such measures."