Missing group did not realise helicopter was for them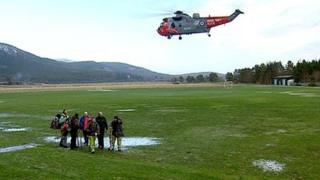 Five hillwalkers who sparked a major search in the Cairngorm National Park have said they did not think a rescue helicopter overhead was for them.
The five men, from the Aberdeen area, were found in the Glen Doll area, in Angus, shortly before 11:30.
They had left from the Spittal of Glenshee area on Wednesday lunchtime and had not been seen since.
One of the men, Thomas Arden, said when they saw the helicopter they said: "Is that for us? We had a giggle."
Describing the weather as "horrendous", he explained of their experience: "There was no problem, the wind blew us back quite a bit so our walking pace was quite slow.
"We camped in shelter.
"We got the stoves on, we were prepared for it, you prepare for the worst.
"When the helicopter went over we thought it was a general pass. I was stood there waving at them."
Mr Arden praised the rescue effort, and added: "You learn quite a lot of lessons."
Two of the men were aged 29 and the others are 30, 31 and 40.
The alarm was raised on Thursday night.
The group was understood to have been missing in the area from Loch Muick to Glen Clova.
They were said to be well-equipped but Grampian Police said there had been "serious concern" due to weather conditions.
A Royal Navy helicopter was being used for the search, alongside Grampian Police, Tayside Police and Braemar mountain rescue teams.