Mackerel wrangle talks continue in Republic of Ireland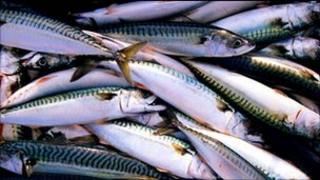 Fresh talks in a bid to resolve the ongoing mackerel controversy are under way.
Iceland and the Faroes last year announced a sizeable quota increase.
Scottish fishermen claim any move by the European Union allowing access to Scottish waters would amount to rewarding irresponsible behaviour.
A new round of mackerel negotiations has begun near Cork in the Republic of Ireland. Mackerel is the most valuable stock for the Scottish fleet.
Ian Gatt, chief executive of the Scottish Pelagic Fishermen's Association (SPFA), has called for a fair resolution.
Urgent meeting
The talks follow a meeting held by Scotland's Fisheries Secretary Richard Lochhead and UK and Northern Ireland Fishing Ministers Richard Benyon and Michelle O'Neill, with EU Fisheries Commissioner Maria Damanaki.
The three ministers had sought an urgent meeting with the commissioner to discuss their joint concerns over confusing figures from the European Commission, published on November 24, which indicate additional reductions in fishing time next year for Scottish, English and Northern Irish vessels.
Following the talks in Brussels on Monday evening, Mr Lochhead said: "We have agreed with the Commission to jointly work together to see if there is a way that we can continue to reward the fleet for cod avoidance measures and not get tied up in regulations that everyone agrees are flawed.
"We will find out in the coming weeks if a sensible way out of this complex situation can be found."