Scotland The What? comic Steve Robertson dies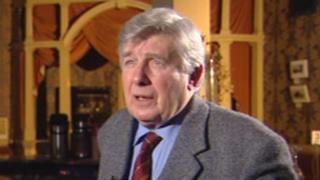 Scotland The What? comedy star Steve Robertson has died in hospital in Aberdeen after a short illness.
The revue act, comprising Robertson, George Donald and William "Buff" Hardie, made its debut at the Edinburgh Fringe in 1969.
The trio received MBEs in 1995, the year of their final performance in Aberdeen. They were given the freedom of the city in 2008.
The following year Steve Robertson was elected rector of Aberdeen University.
When they launched their act, Scotland The What? described themselves as "three semi-literate Scots taking an irreverent look at their country's institutions".
They went on to entertain sell-out audiences both in their home city of Aberdeen and throughout the world.
Many of their sketches and songs were performed in the north east Doric language and set in the fictional village of "Auchterturra".
Steve Robertson worked as a lawyer but eventually gave up his day job to perform full-time.
Throughout their career Scotland The What? observed the ritual of shaking each other's hands just before appearing on stage.
In April 2008, they travelled through Aberdeen in a vintage car, waving to hundreds of fans, before being conferred the Freedom of the City of Aberdeen at His Majesty's Theatre (HMT).
It was awarded for "their services to the fine arts, the Doric language and north east of Scotland culture; promotion of the city and, above all, for makin' a'body laugh".
Steve Robertson ventured out of retirement briefly in 2007 to appear in the 750th anniversary celebrations of Aberdeen Grammar School which he had attended.