Kingswells parents 'could pay for tablet computers'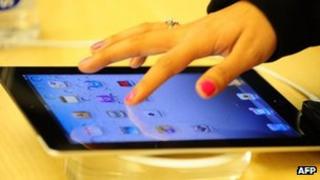 Parents at an Aberdeen primary school could be asked to pay for tablet computers for their children to use in class.
Aberdeen City Council has made the controversial proposal - for leasing the equipment - at Kingswells Primary School.
Some parents and councillors have expressed concern about unfairness and affordability.
A meeting due to be held at the school on Thursday has been postponed.
One parent at the school, Paul Finch, told the BBC Scotland news website: "It's a very exciting prospect to have tablets available in class for our children.
"But the technology has to be available equally to everyone at school, and not just for those kids whose parents can afford the monthly charge.
"The current proposal just doesn't seem to be fair."
'In line'
An Aberdeen City Council spokesman said: "We are looking at the role of technology in learning and have a range of pilot projects across the city.
"As part of that work we are looking at a range of devices and how to use mobile technology that can be utilised in classrooms to enhance education delivery.
"We are looking at the suitability of a number of devices, including smart phones, hand-held devices and tablets, across a range of platforms and software providers."
As for the meeting postponement, the council added: "This postponement will give us time to ensure we are in line with the agreed strategic direction."
A new date has not yet been set.