Aberdeen teenager Sarah Rae wins Scottish Care prize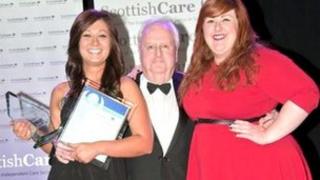 An Aberdeen teenager has beaten hundreds of people to a title at the Scottish Care Awards.
Sarah Rae, 19, who works at Fairview House in Danestone, was selected from more than 400 entries as winner of the ancillary and support staff prize.
She said: "To be a winner is the icing on the cake and all for my efforts in doing a job that I love."
Ranald Mair, chief executive of Scottish Care, said: "Care workers are the unsung heroes of our society."
The awards were hosted by television presenter Michelle McManus.