Aberdeen runway extension 'set to generate millions'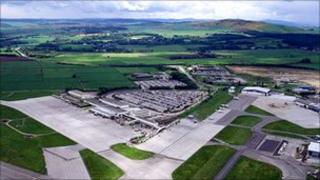 The £10m extension of Aberdeen Airport's main runway will generate millions of pounds for the local economy, a study has claimed.
The extension was completed in October almost eight months ahead of schedule.
A report for the airport, by York Aviation, predicts an additional 205,000 passengers by 2015.
Airport managing director Derek Provan told Aberdeen and Grampian Chamber of Commerce the extension put Aberdeen "back on the radar".
He said: "It sends a powerful message to airlines around Europe and beyond that Aberdeen Airport is open for business."
Bob Collier, chief executive of Aberdeen and Grampian Chamber of Commerce, said: "The chamber's board and council have always backed this project and lobbied strongly for it to go ahead so we very much welcome this report."
The length of the runway extension is 124m (406ft). It is hoped it could open up new routes.
Groups including Aberdeen Against Climate Change had objected.