Mental health job worry referrals 'soar' in Aberdeen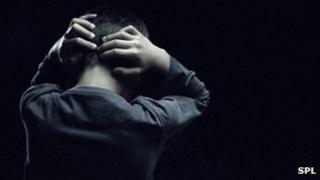 A large increase in people being referred with mental health problems relating to job and economic worries has been reported by a charity.
BBC Scotland can reveal that Aberdeen has seen a 37% jump in referrals from people worried about redundancy and poverty issues.
Mental Health Aberdeen (MHA) said the problem was a "time bomb".
The Scottish Association of Mental Health (SAMH) said there was still a stigma about mental health.
Astrid Whyte, chief executive of MHA, said debt and poverty issues were to the fore.
She added: "We have had children as young as eight.
"You could just weep at the issues some people are having to face."
One of MHA's clients, Melanie West, has a history of mental health problems including severe depression.
She no longer works, and explained: "My experience in the workplace was pretty awful, I was treated differently.
"I used to be physically sick at the thought of going to work."
Billy Watson, chief executive of SAMH, said there was still stigma around mental health and this was most manifest in the workplace.
He said organisations across Scotland were facing cutbacks while demand was rising.
'Significant progress'
He told BBC Scotland: "There's almost a perfect storm brewing.
"We have got significant concerns."
A Scottish government spokesman said: "Significant progress is being made in promoting positive mental health, preventing problems and improving mental health services across Scotland.
"We have seen a reduction in psychiatric inpatient readmissions, an increase in the number of people with dementia who have their diagnosis recorded by their GP and an overall reduction in suicide rates since 2000-02.
"We want to deliver increasingly joined-up and systematic mental health services, which is why we are consulting on a new mental health strategy for the next four years which builds on the successful mental health promotion, prevention and recovery work of recent years."