Decision on Aberdeen City Gardens referendum next month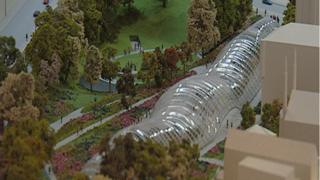 A decision on the next step in the transformation of Aberdeen's Union Terrace Gardens will be made by councillors next month.
The environment, planning and infrastructure committee said a motion on holding a referendum on the plans should be voted on by the full council.
An international contest is being held to find a design for the high-profile £140m City Garden Project.
A referendum could cost around about £250,000.
BBC Scotland revealed on Monday that a huge glass house was one of two designs to have been shortlisted.
The design contest winner is expected to be announced later this month.
Committee members agreed at a meeting on Tuesday afternoon to refer a motion on holding a referendum or commissioning an opinion poll to the full council meeting on 14 December.
At the same meeting councillors are also due to decide whether to move the City Garden project to the next stage.
The Scottish government earlier said it would approve plans by Aberdeen City Council to use the tax incremental financing scheme, to raise tens of millions of pounds, if public support for the project could be demonstrated.
Aberdeen oil services tycoon Sir Ian Wood has pledged £50m of his own money for the project.
During a previous public consultation process, 55% of those who took part said they did not support the new development.
However, councillors backed taking the plans to the next stage.
If the project proceeds, Aberdeen City Council believes construction could be finished by 2016.