YouTube wrong way crash driver Shazida Begum banned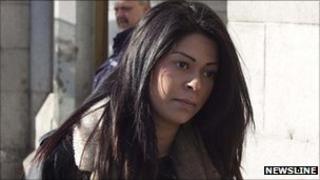 A woman who admitted driving the wrong way down the slip road of a busy dual carriageway and crashing into two lorries has been fined and banned.
Shazida Begum was captured on camera by a device fitted in one of the lorries and the footage on YouTube has been watched more than 2.4 million times.
The crashes happened in March on the A90 Aberdeen to Stonehaven road.
Begum, 21, was fined £700 and banned from driving for two years at Aberdeen Sheriff Court.
Begum - who had only been driving for two weeks - admitted causing the crashes by driving dangerously.
The footage shows her silver Vauxhall Corsa veering out of the way of an oncoming lorry heading up the slip road.
The car then crashes head-on into the front of another lorry on the northbound lane of the dual carriageway.
The lorry jacknifed then flipped over on to the side of the road next to the Charleston flyover on the outskirts of Aberdeen.
Begum's car went on to collide with another northbound lorry.
Defence agent Chris Maitland told the court Begum had missed signs indicating that the road was changing from a dual to a single carriageway and entered the slip road the wrong way.
He said 'no entry' signs had since been erected at the spot.
He said: "The first she became aware of her mistake was when the two lorries were directly in her path. She has then reacted in a panic.
"She has shown remorse for her actions and does wish to make a public apology to everyone involved.
"It was an unintentional act by an inexperienced driver."
Escaped injury
The driver of one of the lorries was kept in hospital overnight following the incident but was not seriously injured.
The court heard Begum also escaped injury.
Sheriff Scott Pattison said: "This wasn't an intentional course of driving but is still a serious matter and could have been extremely serious for those involved had it not been for their good fortune."
Begum will have to sit a test of competency before she is allowed back on the road.
She declined to comment after the case.