Two Aberdeen city garden designs shortlisted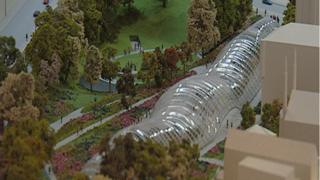 A huge glass house is one of two designs to be shortlisted in a contest to transform Aberdeen's Union Terrace Gardens, BBC Scotland has learned.
A jury met last week to review the original six designs for the high-profile £140m City Garden Project, put forward by leading architects.
It is understood that the jury has requested more details on the cost and viability of two designs.
A final decision is to be made next month.
About 15,000 people visited an exhibition of the designs.
Each design was given a number so the public would not be swayed by which architect was involved.
'In deliberations'
The model of the huge glass house stretching through the gardens impressed the public.
A spokeswoman for the City Garden Project management board said: "We can confirm that the jury of the international design competition for the City Garden Project has met and interviewed the design teams but is still in deliberations.
"We are unable to comment any further as the competition is part of a formal tendering process."
Councillors are to meet on Tuesday to discuss the possibility of a referendum on the controversial project.