University of Aberdeen rector named as Maitland Mackie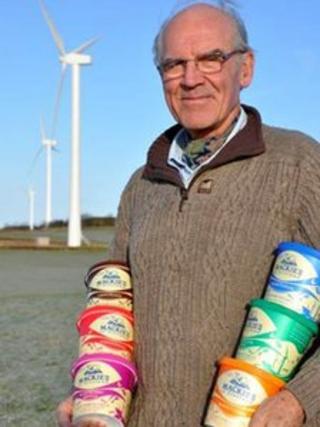 The new University of Aberdeen rector has been named as businessman Dr Maitland Mackie.
Mr Mackie, chairman of Aberdeen-based Mackie's ice cream firm, takes over the three-year tenure in January after being voted in by students.
He will take up the post on 1 January, succeeding Scotland The What? star Stephen Robertson.
Six candidates were in the running for the post of rector, which represents and supports students.
The other candidates were Colin Lawson from the haulage industry, student Matthew Bell, lawyer James Steel, music photographer and reviewer David Craig, and charity founder Jim Henderson.
Mr Mackie, a former Aberdeen student, said: "I am very privileged that the students have chosen me.
"I am very aware from my experience on the University Court that the student body is the principal customer of the university - and the customer is king.
"This brings back memories of being a student at the University of Aberdeen 55 years ago and, in particular, when we were much engaged in securing our rector of choice during the rectorial elections back then - and the things we got up to at that time can't be spoken about," he joked.
'Real champion'
Tessa Birley, president of Aberdeen University Students' Association, said: "I am really delighted that Maitland has been elected as our new rector, not least because of his commitment to environmental issues in addition to his knowledge of our university.
"The students' association looks forward to installing him as our new rector in the traditional way. We are confident he will be a real champion for Aberdeen students."
Returning Officer and Senior Vice-Principal of the University, Professor Stephen Logan, added his congratulations to Mr Mackie and the other candidates for an "excellent campaign".
Mr Mackie graduated from the University of Aberdeen with a BSc in agriculture in 1958 and MA Hons in economics in 1971. He was awarded an honorary Doctor of Laws degree in 1996.
He is an advocate of renewable energy and is currently a member of the University Court.