Army unit moving to former air base at Kinloss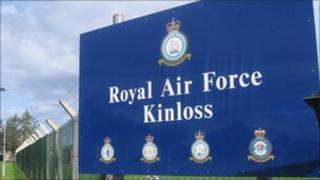 More than 900 soldiers and their families will move to the former RAF base at Kinloss from their current base near Cambridge, it has been announced.
A total of 930 personnel and relatives will be moved to the new barracks in Moray. The move is expected to take place by next summer.
RAF Kinloss was closed as part of the UK government's defence cuts.
It ceased to be an operational air base in July after more than 70 years of service.
The moving unit, 39 Engineer Regiment from Waterbeach, provides engineer support to both the Royal Air Force and the Army.
HQ 12 (Air Support) Engineer Group will move its 44 service personnel and their families, also from from Waterbeach, to RAF Wittering in the summer of 2013.
Secretary of State for Scotland Michael Moore said: "Today's announcement is excellent news for Moray, bringing a large, highly-skilled unit to the area.
"This move will take place a great deal earlier than expected. This is a demonstration of our good faith and commitment to ensure that changes in Moray - and throughout Scotland - take place with the minimum of disruption."
Jim Royan, chairman of the Moray Economic Partnership, said: "The RAF has been at the heart of our Kinloss community for 70 years and we wish those who are leaving the very best.
"But we are delighted to welcome the men and women of 39 Engineers who are coming to Moray and they will find a warm welcome at their new home."
Moray MP and SNP Westminster leader Angus Robertson said: "It is welcome that the Army will move to Kinloss. However, the base will have a considerably reduced number of personnel.
"It is worrying that numbers will be 41% down on the RAF unit establishment total at Kinloss.
"Moray is the most defence-dependent constituency in the country and the local economy and community has suffered terribly because of MoD cuts.
"While welcoming the new Army unit to Kinloss, many questions remain to be answered by the Ministry of Defence."
General Sir Peter Wall, Chief of the General Staff, said: "The new basing arrangements being announced today allow the Army to reinforce vital links with local communities in the UK, as well as continuing to provide a high level of support to our soldiers and their families."