Rescue operation saves sea eagle on Aberdeenshire coast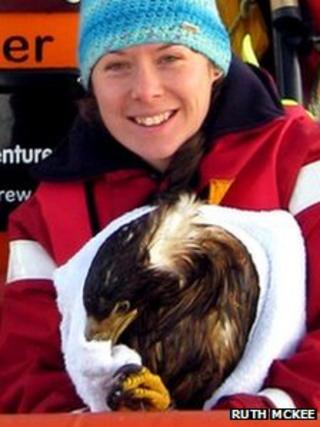 A sea eagle has been rescued on the Aberdeenshire coast.
RSPB Scotland was called to a remote cove, inaccessible by land, near Pennan following reports of an injured bird needing help.
The team managed to rescue the tired, wet but "feisty" sea eagle and it is now recovering from its ordeal and being treated by vets.
The bird has been identified as a young male released in Ireland as part of a reintroduction project in 2010.
The distressed eagle was first spotted by a sea kayaker and the alarm was raised.
RSPB Scotland moved in to help, with help from Banff-based business North 58˚ Sea Adventures.
Rhian Evans, RSPB Scotland's east Scotland sea eagle officer who helped rescue the bird, said: "It wasn't until we approached the beach that we saw that the eagle was alive, but was clearly tired and wet.
"It was still fairly feisty and it actually took a while for us to retrieve it.
"Eventually I had to flush it off the cliffs by swimming towards it. Fortunately we managed to bring it safely back to the mainland."
'Excellent result'
Ian Page, the skipper of the North 58˚ boat Buchaneer said: "We had a falling tide and we were losing water and light.
"We could see Rhian running down the beach and then heading into the water. It was quite a decathlon but an excellent result."
Dr Allan Mee, project manager of the Irish sea eagle reintroduction programme, added: "It was a shock to hear one of our young sea eagles was found in poor condition but fantastic that it's been rescued and now has a real chance of recovery.
"This bird is the fifth confirmed Irish released sea eagle to have travelled to Scotland over the last four years.
"We are indebted to Rhian and the rescue team for their efforts."