Fishermen deaths report calls for safety improvements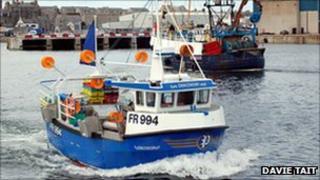 A report into the deaths of two skippers has called for improved safety considerations for single-handed operations.
The Marine Accident Investigation Branch (MAIB) report considered the deaths of two creel fishermen.
Bruce Pearson, 40, of Rosehearty, went missing from the creel boat Discovery, off St Combs in October 2010.
And 54-year-old Neil Smith, the lone skipper and owner of the creel boat Breadwinner, died in January.
Mr Pearson was probably lost overboard off Aberdeenshire about six hours before a rescue effort was launched, the report found.
It said he was not wearing a flotation device or locator beacon and had little chance of swimming ashore or being found alive.
A local man raised the alarm after spotting Discovery drifting off the coast.
Dragged overboard
It was the first time offshore worker Mr Pearson, who was the boat's skipper when the owner was unavailable, had operated Discovery single-handedly.
Investigators concluded it was likely he had been dragged overboard by a rope as he was hauling in creels.
The report said additional safety considerations were needed for single-handed operations.
It also considered the death of 54-year-old Neil Smith, the lone skipper and owner of the creel boat Breadwinner, was dragged overboard and drowned in an outing five miles (8km) east of Score Head, Bressay, Shetland in January.
Mr Smith's body was recovered eight days later, entangled in a string of creels - baskets typically used for catching lobsters and crabs.
The MAIB found there were no measures on the boat to separate crew members from the fishing gear if they had to leave the protection of the wheelhouse during operations.
The report said: "While there were differences in the circumstances that led to each of these fatal accidents, both occurred as a direct result of the working practices that were being used.
"Discovery and Breadwinner were both being operated by lone skippers and there was no support or backup when the fishing operations started to go wrong.
"Without additional safety precautions, there was little to prevent either man being carried overboard, and nothing that could be done to recover them or raise the alarm. To prevent this deadly situation, lone fishermen should consider the way they operate."
The MAIB said there have been 13 recorded fatalities on UK creel fishing vessels since the beginning of 2007, nine of which were a result of falling or being dragged overboard with the gear.
Of these fatalities, seven were single-handed fishing operations. In the same period there were 10 single-handed fatalities on other types of UK fishing vessels.
Hazards 'not recognised'
Steve Clinch, the chief inspector of marine accidents, wrote: "The loss of fishermen from the vessels Discovery and Breadwinner were tragic events made more so because those involved had either not recognised the hazards they faced, or tolerated them because they were unable to think of a better way of working."
The report said there was a need to provide lone fishermen with credible advice on safe working.
It recommended that the Maritime and Coastguard Agency (MCA) extend its current safety guidance to cover the additional considerations needed for single-handed operations.
The Scottish Fishermen's Federation is also producing an instructional video on safe working.