Warning over more Scottish fishing industry cutbacks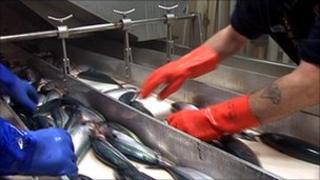 Scottish fishing leaders have warned planned cuts to the number of days vessels can put to sea will take the fleet to the financial edge.
Boats will automatically lose time at sea in 2012 under the mechanism introduced by the European Commission as part of the Cod Recovery Plan.
The Scottish Fishermen's Federation said the cutbacks could not go on.
Scottish Fisheries Minister Richard Lochhead is embarking on two days of "crucial" talks.
He is meeting with UK Fisheries Minister Richard Benyon and said he would emphasise that cuts in fishing effort need to be put on hold.
Mr Lochhead said: "Scottish fishermen have worked tirelessly to help stock recovery.
"However to take a further cut in fishing time, on top of increasingly deep cuts already applied over the last few years, would be too much for a vulnerable fleet."