Brain injury victim Michelle Coulson up for award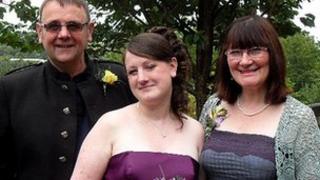 An Aberdeen woman who suffered a severe brain injury in a car crash seven years ago is in the running for an award for helping others.
Michelle Coulson, 31, is one of three people competing for the title of Campaigner of the Year in the awards, run by the head injury charity Headway.
She was on her way to work in 2004 when she was badly injured.
The former school teacher now helps others with brain injuries. The winner will be named on 2 December.
She said: "I don't think I'm special - I just like helping. I enjoy speaking about my brain injury as it makes me feel useful and that something good can come from the accident.
"It means a huge amount to me that it was mum that nominated me. She's my best friend. I feel so happy that I've made her proud enough of me to do this."
The Campaigner of the Year will be named at a ceremony at The Dorchester Hotel in London.