Orkney energy hopes follow Churchill Barrier sale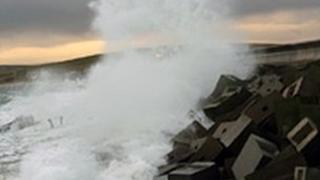 Orkney Islands Council has taken ownership of the Churchill Barriers, WWII causeways which link some of Orkney's south islands.
The council said it paid a "nominal" sum to complete the deal.
The purchase from the MoD may lead to a marine energy project harnessing tidal flows beneath the installations.
Although built as a defence against submarine attack in wartime, the barriers are now part of Orkney's road network.
The sale by the MoD has given the local authority ownership of the seabed underneath the barriers.
The council has said the move was to address an "anomaly" in the ownership of the road network.
But it is understood that discussions have already taken place with a renewable energy developer.
The construction of the Churchill Barriers as a defence for the harbour at Scapa Flow was prompted by the sinking of the battleship Royal Oak in 1939.